World Interfaith Harmony Week in Hyderabad
Fr Liam O'Callaghan, Pakistan
World Interfaith Harmony Week in Hyderabad, Pakistan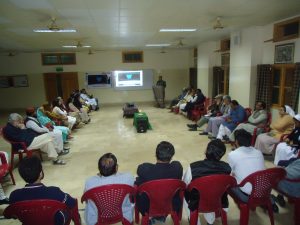 World Interfaith Harmony Week was celebrated in the Catholic diocese of Hyderabad with four programmes in different locations throughout Sindh province. At each event members of the Hindu, Muslim and Christian communities were present who work in the fields of religious leadership, education, media, police, social activism and the legal profession. The events were organized by the Catholic Diocese of Hyderabad under the guidance of Bishop Samson Shukardin OFM and prepared by Fr Liam O'Callaghan SSC and Mr Danish Yaqoob of the diocesan interreligious dialogue commission.
The four events followed the same basic outline, though naturally varied with the audience and length of time available.
The programmes began with a prayer, as a representative from each community came forward to light the peace and harmony candle and the three recited together the opening interfaith harmony prayer.
Then Fr Liam and Danish, through the use of PowerPoint, gave input on the background to the World Interfaith Harmony Week.  Following a unanimous United Nations resolution in 2010, accepting the proposal of King Abdullah II of Jordan, this began in 2011 and is now celebrated in the first week of February every year.
Then there was input on interreligious dialogue:  what dialogue is and what it is not and how it might be employed to bear fruit on some of the pressing issues of our society today.
This was followed by sharing from some of the participants from the different traditions on the need for and possibilities for cooperation on ways to promote interfaith harmony between and among the people of different faiths.
The conclusion of the proceedings was the common reciting of the interfaith prayer as each participant held a candle which had been lighted from the peace and harmony candle.
The first event took place at St Francis Xavier Cathedral hall, Hyderabad on 4February 2017. There were 24 participants, representing the three respective communities in Hyderabad city. Finally, Bishop Samson addressed the gathering and he too emphasized the importance of interfaith harmony and working together for the common good.
The second and third events took place in two girls' high schools of Hyderabad diocese. On 9 February in St Mary's convent high school and college, Hyderabad, 220 students and six teachers were present for a lively and interactive discussion on promoting interfaith harmony in the school, homes and communities. On 10 February a similar event took place in St Michael's girls' high school, Mirpurkhas with 94 students and eight teachers enthusiastically participating.
The fourth event took place on the evening of 10 February in Joti Center, Mirpurkhas, the educational and cultural center of Hyderabad diocese. There were 47 participants present with very good interaction and sharing.
We hope and pray that these events will help promote greater understanding and harmony, leading us all to work together for the common good.
Fr Liam O'Callaghan